Town of Wellton, AZ
---
Wellton History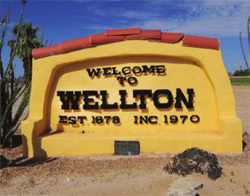 Founded in 1878, Wellton was originally known as "Well Town," named for water wells drilled in the area to supply the railroad. It was incorporated as a town almost a century later, in 1970.
Located east of Yuma on the opposite side of the Gila Mountains, Wellton's main industry continues to be agriculture, although it draws growing numbers of winter visitors attracted to the community's slower, easygoing lifestyle.
Wellton's growth and increasing popularity among winter residents has required the town to add amenities in recent years, including a Family Services Center, the 18hole Butterfield Golf Course, a community center, and N.D. & Katie Kline Pool, which gives residents a cool respite from summer heat. Golfers who like to tee off in the desert can also play 18 holes at the Links at Coyote Wash on the south side of Interstate 8.
The town also has a branch of Yuma County's library system, and a museum - the Wellton-Mohawk Fine Arts and Historical Association. In addition, Arizona Western College has built a branch campus in Wellton to serve residents of the town and other areas of East County.
---
Town of Wellton website: http://town.wellton.az.us/
Wellton Town Hall
28634 W. Oakland Ave.
Wellton, AZ 85356
Phone: (928) 785-3348
Wellton Fire Department
29118 E. Los Angeles Ave.
Wellton, AZ 85356
Phone: (928) 785-3340
*For emergencies, dial 9-1-1
Wellton Police Department
28618 W. Oakland Ave.
Wellton, AZ 85356
Phone: (928) 785-4887
*For emergencies, dial 9-1-1