City of San Luis, AZ
---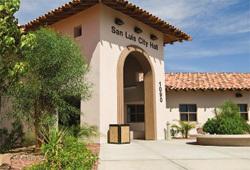 Having incorporated in 1979, San Luis is Yuma County's youngest municipality. But the community's history is longer than that.
Its beginnings date back to 1930, when the United States opened a port of entry across from San Luis Rio Colorado, Son. Over the next several decades, its population consisted mainly of farm labor families who lived within a two-block area north of the Mexican border.
In the 1950s, the population hovered at around 200 residents but then climbed in the 1960s, primarily as a result of the Bracero program that brought Mexican farmworkers and their families to the United States.
In 1961, Jose Urtuzuastegui opened the city's first gasoline station, The Flying A, on Main Street, a block north of the border line. And in 1965, Chevron became the first major business chain located in San Luis when it opened a service station, which was operated by Enrique Fletes.
The area's main industry is agriculture, but large employers in the city include the City of San Luis, the ACT call center, and Gadsden Elementary School District.
---
City of San Luis website: www.cityofsanluis.org
San Luis City Hall
1090 E. Union St.
San Luis, Arizona 853496
Phone: (928) 341-8520
San Luis Fire Department
1165 N. McCain Ave.
San Luis, Arizona 85349
Phone: (928) 341-8550
*For emergencies, dial 9-1-1 
San Luis Police Department
1030 E. Union St.
San Luis, Arizona 85349
Phone: (928) 341-2420
*For emergencies, dial 9-1-1
San Luis Parks and Recreation Department
965 N. Park Ave.
San Luis, Arizona  85349
Phone: (928) 341-8535
Fernando Padilla Community Center
800 E. Juan Sanchez Blvd.
San Luis, Arizona 85349
Phone: (928) 341-8580