Benefits at a Glance
---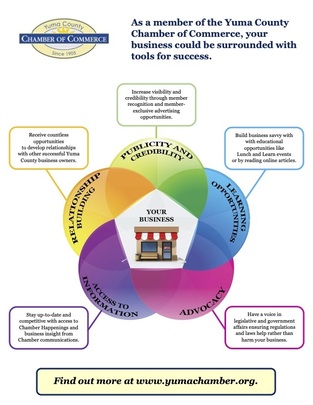 As a member of the Yuma County Chamber of Commerce, your business will be surrounded by the tools needed for your success.
Quick Nav: 
Member Recognition - All members receive a decal to be displayed in their business. Members may also receive special recognition as the Member of the Month, Member of the Year, Small Business Person of the Year, or through other awards.
Community Business Expo - This showcase takes place each fall. Booths are exclusively sold to members of the Yuma County Chamber of Commerce and the public is invited to attend allowing members one-on-one time to promote their business. This event also hosts fun entertainment and food options to add energy to the day and boost attendance.
Online Business Directory - People near and far can find your business through the Chamber's online business directory. All members receive a free listing and enhancements can be purchased.  
Relocation Guide - Chamber members are among the first businesses people see when considering a move to Yuma County in our Relocation Guide. We receive over 500 requests per year for Relocation Guides to be mailed and it is available online as well.
Chamber Chatter - Join our Executive Director on her radio show each Wednesday morning at 8:00am on KBLU. Guests are invited to talk about their business, especially if they have something new and exciting to share. This is only open to Yuma County Chamber of Commerce members.
BIZ magazine - New members receive a complimentary ⅛ page ad in BIZ magazine. Members may also be featured in issues and are listed every renewal. Published by the Yuma Sun.
Ribbon Cuttings and Open Houses - If your business is new or has something new to offer, the Chamber offers ribbon cuttings and open houses to help you spread the word. It could be something as simple as Chamber staff and Ambassadors attending or more complex with a live feed to the Chamber's social media pages. To request a ribbon cutting - click here
Good Morning, Yuma! - This breakfast is held the second Thursday every other month. Generally attended by representatives of over 150 local businesses, it is the perfect opportunity not only to learn, but also to network and promote your business. 
Monthly Mixers - Mix a little fun while doing business at our Monthly Mixers held the fourth Wednesday of each month. They are usually attended by representatives of over 100 local businesses and being held after hours lends to a more relaxed atmosphere. 
Mega Mixer at the Community Expo - The Chamber takes its Mixers to the next level with the Mega Mixer held the night before the Community Expo. Not only will fellow members be in attendance, the booths will be set up allowing even more business promotion.
Driving Business in Yuma Golf Tournament - They say a lot of business is conducted on the golf course so we made it easy. Golfers and non-golfers alike can participate in our spin on a golf tournament. Sponsors can set up booths around the golf course meeting with golfers while they wait for their turn to tee off.
Annual Awards and Installation Dinner - This annual event is a special one where we recognize those members who have gone above and beyond not only introducing volunteers and the incoming Board of Directors, but also award Member of the Year, Small Business Person of the Year, Ambassador of the Year, Athena International Award, Instagrammy, and more. Social time to meet our community's movers and shakers included.
Chamber happenings - Every Tuesday, the Chamber happenings enewsletter is emailed to over 2,000 members and community leaders. It includes not only information about what is happening at the Chamber, but also information about community events as well as articles and news to assist your business.  You can find issues of Chamber happenings here.
News - Whenever the Chamber hears news that is relevant to local businesses, it is posted to the News section of the website. During the pandemic, this is where we are posting information regarding grants, PPP loans, and more that can help your business.
Legislative Affairs Committee - Every other month, Chamber staff and representatives meet with local, state, and federal elected officials to monitor and research all levels of government and legislative activity affecting business, industry and proposed actions to the Chamber of Commerce.
Community, County, State, and Federal Partnerships - The Yuma County Chamber of Commerce has taken on various projects to better our community and establish stronger relationships between businesses, the community, and government entities. These stronger relationships protect your ability to do business and enhance your operations. Some of these relationships include attending meetings of other community organizations and speaking out for or against legislation and regulations that affect businesses. The Yuma County Chamber of Commerce gives you a "seat at the table."