City of Somerton, AZ
---
Somerton History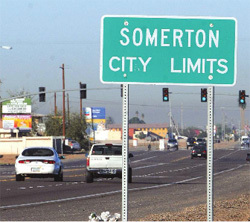 Somerton - established in 1898 and incorporated in 1918 - is located in the fertile Yuma Valley in southwestern Yuma County, about 12 miles south of Yuma and 180 miles east of San Diego. Equidistant from the borders of California and Mexico, Somerton is also the native region of the Cocopah Tribe.
Though its economy depends primarily upon agriculture, light industry is becoming important. Somerton also has a small commercial service sector that is growing.
Major employers within the city are the Somerton School District, City of Somerton, Regional Center for Border Health and Sunset Community Health Center.
Also a large employer is the Cocopah Tribe, with seven different entertainment, lodging and cultural attractions,
including Cocopah Casino, Cocopah Resort & Conference Center, Cocopah Rio Colorado Golf Course, Cocopah Museum, Cocopah RV and Golf Resort, Cocopah Speedway and the Wild River Family Entertainment Center.
Somerton is home to the Somerton Tamale Festival, where more than 30,000 people gather every third Saturday in December to enjoy a staple of traditional Mexican cuisine. The event is organized by the El Diablito Arizona State University Alumni Chapter to raise scholarship money for area students who will attend ASU.
Somerton has received both regional and national attention as a "Green City" for having introduced the area's first citywide recycling program.
---
CIty of Somerton website: www.cityofsomerton.com 
Somerton City Hall
110 N. State Ave.
Somerton. AZ 85350
Phone: (928) 722-7300
Somerton Fire Department
445 E. Main St.
Somerton, AZ85350
Phone: (928) 722-7376
*For emergencies, dial 9-1-1
Somerton Police Department
445 E. Main St.
Somerton, AZ 85350
Phone: (928) 722-7300
*For emergencies, dial 9-1-1
Somerton Parks and Recreation Department
805 W. Main St. 
Somerton, AZ 85350
Phone: (928) 627-2058